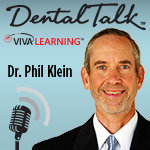 Supporter: AdDent Welcome to the AdDent series of VivaPodcasts. Top KOLs will address clinical techniques, new products and the latest research and development at AdDent.
---
Episodes from this Supporter: (1)
The Benefits of Using Warmed Composite When Placing Direct Bonded Dental Restorations
CE Credits: 0.25 CEU
Release Date: 11/18/2022
Dental podcast: Welcome to DentalTalk. I'm Dr. Phil Klein. Today we'll be discussing clinical considerations and the benefits for using warmed composites when placing direct bonded dental restorations. Our guest is Dr. Robert Lowe, who maintains a part time private practice in Charlotte, North Carolina. He publishes and lectures internationally on aesthetic and restorative dentistry.