Episode:
Considerations When Buying a Dental Handpiece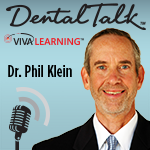 Supporter: DENTALEZ
CE Credits: 0.25 CEU
Dental podcast: Welcome to DentalTalk. I'm Dr. Phil Klein. Dental handpieces are the workhorse of the operatory. If they go down, so does your practice! Today we'll be discussing how handpiece innovation can deliver operator confidence, create predictable tooth preparations, while improving the patient experience. Our guest, Dr. Lori Trost, has a comprehensive restorative practice in the Greater St. Louis area. She is a recognized dental educator, has authored a wide variety of professional articles and consults for many dental manufacturers.
Podcast Exam
Please
Log in
to take exam and earn CE credit.
More Podcast Episodes You Might Like