Dental Podcast Episodes
The impact of CBCT and 3D imaging acquisition, processing, and interpretation on surgical and non-surgical endodontics has been stunning. To tell us all about it is our guest Dr. Ali Nasseh. He is a practicing endodontist and senior clinical faculty and lecturer at Harvard School of Dental Medicine for the past 27 years.
---
Until recently, Dr. Sarah Winter, who runs a cosmetic focused practice in La Jolla CA, used two different composite systems for her direct restorative cases. She used a micro-filled composite for her anterior cases for high polishability and a bulk fill for her posterior cases which provided lots of strength. But recently, she found one material that actually does both, offering strength and esthetics. According to Dr. Winter, this newer material has made her life and her staff's a whole lot easier. Today we'll talk about her transition to this new restorative composite.
---
Today we'll be talking about how single shade composite systems can decrease chair time, lower overhead and create exceptional esthetic results. Our guest is Dr. Stephanie Vondrak, who owns and operates a private practice in Elkhorn, Nebraska. She has pursued over 600 hours of post-doctorate education in TMD, occlusion, orthodontics, and sleep apnea including the Pankey Institute, the Schuster Center, and the American Academy of Craniofacial Pain.
---
Today we'll be discussing why tissue retraction is so important in achieving the ideal impression, what our options are and how to think critically about our restorative field and keeping it dry! Our guest is Dr. Lauren Rainey, who owns and operates her own clinical practice. She currently teaches direct restorative techniques to dentists in the US & Canada.
---
Many of us are using bulk fill composite and universal adhesives for our direct restorative procedures. And our goal, as in any clinical procedure, is to create the best restorations in the most efficient way. And chairside efficiency not only improves the patient experience but also boosts productivity and profitability. Today we'll be discussing efficient esthetics using direct composites. Our guest is Dr. Joshua Austin, who maintains a full time restorative dentistry practice in San Antonio, Texas. He is an editorial director and monthly columnist for Dental Economics magazine focusing on dental products and technology. Dr. Austin also lectures around the country on topics such as digital marketing and mental health.
---
Episode 512:
Overcoming Sensitivity with Direct Restoratives and How to Use Silver Diamine Fluoride to Achieve Amazing Results!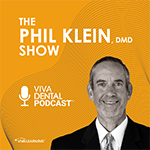 Supporter: SDI
CE Credits: 0.5
Guest: Dr. Jeff Brucia
Release Date: 11/6/23
In today's episode, we'll explore the science behind tooth sensitivity, dissect the various reasons why it occurs after restorative work, and arm you with the knowledge you need to navigate this common clinical challenge. We'll discuss strategies using glass ionomer materials. In the second half of our podcast, we'll learn how the experts use silver diamine fluoride to achieve amazing results. Our expert guest today is Dr. Jeff Brucia. Dr Brucia is currently an Assistant Professor at the University of the Pacific Dugoni School of Dentistry and is in private practice focusing on Esthetic and Restorative dentistry in San Francisco, California.
---
There is no question that digital dentistry has revolutionized our profession. The impact of digital scanning and printing has enabled clinicians to provide faster, better and more affordable high end dentistry. Today we'll be discussing digital solutions specifically for implant dentistry. Our guest is Dr. Isaac Tawil, who has an extensive history in the dental field and is a recipient of two coveted awards: the Pierre Fauchard award for outstanding achievements in dentistry and the Presidential Service Award. He is the Founder of Advanced Implant Education and is a new product consultant for several dental companies.
---
Today we'll be discussing things to look for in a composite system and how to utilize these materials as efficiently as possible. Our guest is Dr. Anthony Mennito, an adjunct faculty member at the Medical University of South Carolina. He currently works in a cosmetic dental practice that utilizes an evidence based approach with the goal of providing the most durable and esthetic dentistry possible. Dr. Mennito has published a variety of research articles on the topics of dental materials.
---
Episode 509:
Making the Leap: How to Set Yourself up for Best Outcomes with Scanning, Milling and Printing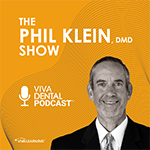 Supporter: NSK America
CE Credits: 0.25
Guest: Dr. Susan McMahon
Release Date: 10/23/23
There are many benefits to transitioning from traditional impression-based indirect restorations to digitally scanned and fabricated crowns, bridges, onlays and veneers: Convenience for patients, increased productivity, increased accuracy and efficiency, and elevated patient experience which leads to increased referral rates. Shown to be true by many dental offices, modernizing your practice directly will increase your bottom line revenue. To tell us more about making the leap into digital dentistry is our guest Dr. Susan McMahon.
---
Advancements in technologies and software can now help simplify workflows between specialists in the areas of alignment and restorative dentistry. Today we'll be learning how using a digital treatment software facilitates case collaboration between an Orthodontist and Dentist to create a comprehensive treatment plan.
---
Did you ever get a bad online review? How did you respond? In this episode, we'll address some land mines to avoid when responding to a bad online review. Our guest is Dr. Karson Carpenter, dentist and CEO of Compliance Training Partners.
---
Welcome to DentalTalk. I'm Dr. Phil Klein. Today is Part 1 of a 3 part series titled: Attract, Convert and Deliver. Part 1 deals specifically with Marketing Your Practice. Our guest is Dr. Todd Snyder, a regular contributor to Viva Learning.com, a cosmetic dentist, international author, lecturer and consultant to a variety of dental companies. He hosts a weekly podcast, Delusional: Winning the Weekly War of Dentistry. You can reach Dr. Snyder at: www.Legion.Dentist.
---
As dental healthcare providers, our primary goal is to diagnose and treat oral health conditions. But a dental practice is also a business. And like every successful business, it needs a clear and strong value proposition. It should define how you deliver your "brand promise" and how your offering will deliver value to your patients and staff. Your value proposition differentiates you, positions your offering as "unique," and makes it clear why patients should choose you as their dentist. To tell us more about how we can define our value and communicate it to our patients and our team, is our guest Dr. Lori Trost. Dr. Trost is a recognized dental educator, author, and clinical consultant who maintains a comprehensive restorative practice in the Greater St. Louis, Missouri area.
---
Regardless of where we practice, it is highly likely that we have patients that suffer from substance-use disorders. Many of us are faced with cases where severe decay, hyposalivation, and poor plaque control may be the result of depressant, stimulant or opioid misuse. Today we'll be discussing how to recognize the clues of a substance-use disorder from a routine oral exam and talk about how we can deliver safe and effective dental care for these patients. Our guest is Dr. Ronni Brown, a leading expert on substance-use disorders and its oral effects. Her research on the impacts of drug-use patterns on caries severity has garnered international interest. She is a best-selling author, published researcher, and clinician. Dr. Brown practices at the Sonoma County Main Adult Detention Facility.
---
Too often, clinical dental hygienists have a limited view of their role as, what our guest calls, inflammatory disease prevention specialists. While this is the crux of what hygienists do, patient care goes well beyond. Today we'll be talking about the oral-systemic link and how hygienists can leverage this to add life-saving value to each patient they see and improve the profitability of their practice. Our guest is Alicia Murria, a quality care enthusiast, technology integration specialist, and productivity coach. She has devoted her career to empowering professionals to provide high quality services utilizing the dental hygiene scope of practice as standard for care.
---
Today we'll be discussing some important improvements and modifications in both electric and air-driven handpieces. Additionally, we'll address some really important tips on how to extend the life of handpieces and answer the question, "With the latest electric handpiece advancements, is there still a place for air-driven handpieces in our practice?" Our guest is Dr. Marc Geissberger, who practices in Greenbrae, California and was a full professor, department chair and educator at the University of the Pacific for 30 years. He has published on restorative dentistry for the past two decades and teaches many and hands-on programs and lectures all over the world.
---
Today we'll be discussing the pros and cons of both conscious and IV sedation. Our guest is Dr. Michael Morehead, Clinical Director of Sedation for Heartland Dental Care. He is a US Army Reserve Colonel and Dental Director for the Atlantic Region.
---
So the question is, when a patient presents with a blown out tooth and can't afford to spend a ton of money, can we restore the tooth with a composite filling and will it last? Our guest today, Dr John Gammachia, says yes we can! In fact, a great deal of his practice is based on doing this as he pushes the envelope with today's advanced composite materials utilizing the latest bonding technology, and of course, meticulous clinical technique. Today we'll talk to Dr. Gammichia about how he does this with such a high rate of clinical success and at the same time maintains a very profitable practice. Dr. Gammichia owns a private practice in Orlando, FL, lectures throughout the country and has published articles on how to use composite for severely broken down teeth. He is a courtesy faculty member at the University of Florida in the Department of Operative Dentistry.
---
Are you frustrated with dealing with dental insurance companies and is accepting their fees even worth your chairside time? Perhaps you should be handling insurance companies differently? To tell us more about this essential part of running a practice is our guest, Dr. Dominique Fufidio. Dr Fufidio is the CEO, Founder and main coach at Fufidio Consulting Group (fufidioconsultinggroup.com) where she has pioneered a unique coaching offering: one focused on understanding the clinical aspects of the dental insurance claims review process. She is on a mission to bring clinical alignment to dental providers and dental market insurance payers, to help you get paid for what you do!
---
We all use WiFi everyday. In addition to cell phones and TVs, many of our devices and appliances, often referred to as IoT, Internet of Things, rely on WiFi to operate properly. When it comes to our dental practice, there are huge advantages to having WiFi capabilities integrated into our sterilization equipment. To tell us more about it is Our guest Michelle Strange. Michelle is a registered dental hygienist with over 20 years of dental experience.
---
The geriatric adult population is expanding rapidly in the United States. How will this effect your dental practice and what do you need to do to prepare for the influx of aging patients. To tell us more about this is a remarkable man and dentist, Dr. Terry Grant. He is changing the lives of many older patients who would otherwise not get the special care he and is staff are providing. Dr. Grant has over 30 years experience as a Cosmetic, General, and Geriatric Dentist. He was awarded "Diplomat in Geriatric Dentistry" by the American Board of Special Care Dentistry and The American Society for Geriatric Dentistry. He was honored by the U.S. Congress for his service as a Geriatric Dentistry Expert.
---
Have you ever wondered what the life of a dental insurance claim reviewer is like? My guess is, probably not. If you know the answer to this question you're at a great advantage when dealing with insurance companies and getting paid for what you do. To tell us more about this, is our guest Dr. Dominique Fufidio. Dr Fufidio is the CEO, Founder and main coach at Fufidio Consulting Group (fufidioconsultinggroup.com) where she has pioneered a unique coaching offering: one focused on understanding the clinical aspects of the dental insurance claims review process.
---
Even though millions of patients have successfully been treated with dental implants some of us are still not sure if it's okay to probe an implant and what the proper protocol is for implant maintenance. To help us answer some of these questions is our guest Jessica Woods. Jessica is a RDH with a masters in public health. She has spent the last decade as a clinician, speaker, author, mentor, and public health advocate. She is also a past President of the Nevada Dental Hygienists' Association (NDHA), recognized as an Oral Health Champion, and the recipient of the Nevada Dental Hygienist of the Year Award for advocacy efforts in expanding opportunities for dental hygienists.
---
Dental practices rely on the results from CDC recommended spore tests to assess whether their sterilizers are functioning properly. Today we'll talk about the other critical components of quality assurance, which are sterilization indicators and integrators. Our guest is Mary Govoni, a speaker, author and consultant on Infection Prevention Control and regulatory compliance. She assists dental teams in achieving compliance with OSHA standards and CDC guidelines, as well as following appropriate infection control protocols.
---
OSA is more common than you think. And for dentists, it's so important to identify this insidious condition as early as possible. Not only can it wreak havoc on your patient's teeth and gums, it can also cause serious systemic health issues for the adult, child and even newborn. Today we'll discuss integrative oral medicine and how it relates to conditions like OSA. We'll also discuss the importance of using biologically kind restorative materials that promote systemic health and predictable long-term clinical success. Our guest is Dr. Mark Cannon, a Professor of Otolaryngology, Division of Dentistry at Northwestern University, Feinberg School of Medicine, and a member of the International Association of Pediatric Dentistry. In addition to maintaining a large private practice in the suburbs of Chicago, he is the Research Coordinator of the residency program at Ann and Robert Lurie Children's Hospital, Chicago, Illinois. Dr. Cannon is on the Executive Board, current President (2023) and a Master Fellow of the American Academy for Oral and Systemic Health.
---
In this episode we will discuss photobiomodulation (PBM) and how it plays a role in reducing inflammation and healing in dentistry. Joining us today is an expert in the field of dental lasers, Dr. Scott Benjamin. He is currently in private practice in upstate NY and has faculty appointments at several universities. He is the Chairman of the ADA Standards Committee Working Group on Dental Lasers and a Past-President of the Academy of Laser Dentistry.
---
Staying compliant with Infection Control protocol is of utmost importance to the health and safety of our patients. And we all know that every office should have stringent IC protocol in place per CDC guidelines. But in addition to the risk to the patient, the practice itself is also at risk by not being fully compliant. Our guest is Dr. Karson Carpenter, dentist and CEO of Compliance Training Partners. He will tell us about a situation where a disgruntled employee reported an office to the state board and how best to avoid and handle this situation.
---
Lots of compelling research is supporting the concept of doing things a little differently when it comes to placing our composite restorative materials. And yes, you've guessed it, this has to do with the temperature of the material when applying it to the tooth preparation. Our guest, Dr. John Comisi, will tell us more about this and why we should consider warming things up in our direct restorative procedures. Dr. Comisi practiced general dentistry and dental sleep medicine in Ithaca, NY for 35 years before relocating to South Carolina in August 2017 to join the faculty at the Medical University of South Carolina James B. Edwards College of Dental Medicine where he is an Associate Professor of Restorative Dentistry.
---
With all the emphasis in the news about climate change and environmental challenges, are there things we can do in our practice to minimize negative impacts on the environment? But we also have to keep in mind that protocols for becoming a "green" practice should not come at the expense of proper infection prevention control. To tell us more about balancing safety and environmental responsibility is our guest Mary Govoni. Mary is a speaker, author and consultant on Infection Prevention Control and regulatory compliance. With a long-term interest in environmental quality, Mary lectures and consults on how dental practices can be safe in terms of infection control and use of chemicals, but at the same time, reduce their impact on the environment.
---
In today's podcast we'll be addressing and debunking some of these myths and misconceptions about the intraoral scanner and revealing how it can actually be incredibly positive for the dental practice. Helping us put all this in perspective is our guest, Dr. Franklin Shull. Dr Shull maintains a private practice focused on comprehensive care and has extensive expertise in digital workflow. He shares his experiences through lectures and workshops throughout the US and is visiting faculty at the Pankey Institute. He is also part time faculty at Spear Education teaching Digital Adoption.
---