Episode 505:
Why Your Value Proposition is Critical to the Success of Your Practice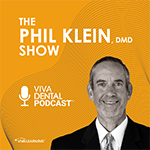 As dental healthcare providers, our primary goal is to diagnose and treat oral health conditions. But a dental practice is also a business. And like every successful business, it needs a clear and strong value proposition. It should define how you deliver your "brand promise" and how your offering will deliver value to your patients and staff. Your value proposition differentiates you, positions your offering as "unique," and makes it clear why patients should choose you as their dentist. To tell us more about how we can define our value and communicate it to our patients and our team, is our guest Dr. Lori Trost. Dr. Trost is a recognized dental educator, author, and clinical consultant who maintains a comprehensive restorative practice in the Greater St. Louis, Missouri area.
Podcast Exam
Please
Log in
to take exam and earn CE credit.
More Podcast Episodes You Might Like
Episode 505. Why Your Value Proposition is Critical to the Success of Your Practice
10/5/2023 - CE Credits: 0.25 CEU
(
Take Exam
)
Episode 477. Putting the Right Spin on Your Preps and Restorations
5/30/2023 - CE Credits: 0.25 CEU
(
Take Exam
)
Episode 435. Size and Shape Matter in Operative Dentistry
12/14/2022 - CE Credits: 0.25 CEU
(
Take Exam
)
View All Episodes from this Supporter »