Episode:
Know Your Patient: Preventing Medical Emergencies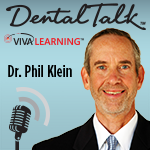 Dental podcast: Welcome to DentalTalk. I'm Dr. Phil Klein. So here's the tip of the day, Never treat a stranger." Why do we say this? Because the Knowledge of a patients medical history is of paramount importance in the prevention of medical emergencies in your practice. If we don't know the patient, we don't know their medical history. So Today we'll be discussing physical evaluations of prospective dental patients and why it is so important. Our guest is Dr. Stanley Malamed, a dentist anesthesiologist and emeritus professor of dentistry at the Ostrow School of Dentistry of USC.
Podcast Exam
Please
Log in
to take exam and earn CE credit.
More Podcast Episodes You Might Like