Episode 435:
Size and Shape Matter in Operative Dentistry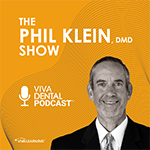 Dental podcast: Welcome to DentalTalk. I'm Dr. Phil Klein. Selection of the proper bur can make your operative dentistry more efficient and less traumatic to the patient. Thinking about what the bur needs to do to the tooth before starting the procedure will make your bur selection easier and dentistry better. Today we'll discuss why bur selection is important and try and get you out of your bur comfort zone. Our guest is Dr. Martin Jablow. He's a general dentist in Woodbridge NJ and Chief Development Officer of Cellerant Consulting. Dr. Jablow has been recognized as a top speaker by Dentistry Today and has lectured world wide on dental technology and materials.
Podcast Exam
Please
Log in
to take exam and earn CE credit.
More Podcast Episodes You Might Like
Episode 505. Why Your Value Proposition is Critical to the Success of Your Practice
10/5/2023 - CE Credits: 0.25 CEU
(
Take Exam
)
Episode 477. Putting the Right Spin on Your Preps and Restorations
5/30/2023 - CE Credits: 0.25 CEU
(
Take Exam
)
Episode 435. Size and Shape Matter in Operative Dentistry
12/14/2022 - CE Credits: 0.25 CEU
(
Take Exam
)
View All Episodes from this Supporter »