Episode:
The Future of Face Masks in the Dental Operatory Post-Pandemic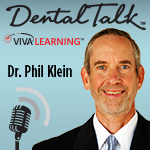 Dental podcast: Welcome to DentalTalk. I'm Dr. Phil Klein. Today we'll be discussing the use of face masks in the dental operatory and how COVID-19 has forever changed the way we manage respiratory protection for our dental team. To tell us more about this, is our guest Dr Sheri Doniger. She is a respected dental clinician, author, educator, and consultant who currently practices dentistry in Lincolnwood, IL.
Podcast Exam
Please
Log in
to take exam and earn CE credit.
More Podcast Episodes You Might Like