Midmark Dental Podcast Series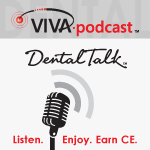 Series: Midmark Dental Welcome to the Midmark Dental series of VivaPodcasts. Top KOLs will address clinical techniques, new products and the latest research and development at Midmark Dental.
---
Episodes from this Series: (1)
Key Considerations in Choosing Digital Scanners
CE Credits: 0.25 CEU
Release Date: 11/7/2019
Dental podcast hosted by Dr. Phil Klein: This Viva Podcast will discuss the key considerations in choosing digital scanners. Our guest is Daniel Dwyer, Clinical Digital Specialist supporting True Definition. Dan has been involved in dentistry for over 21 years, and has concentrated on digital dentistry for the last 10 years.