Episode 152:
Bioceramic use in Surgical Endodontics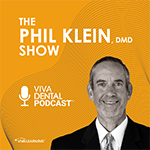 Dental podcast hosted by Dr. Phil Klein: This Viva Podcast will discuss bioceramics use and indications in surgical endodontics. Our guest is Dr. Ali Nasseh, CEO of Real World Endo and founder of MicroSurgical Endodontics (MSEndo), and a practicing endodontist in Boston, MA. He has been an active faculty and a clinical instructor at the Department of Restorative Dentistry and Biomaterial Sciences / Postdoctoral Endodontic division of Harvard School of Dental Medicine since 1994. Dr. Nasseh is a national and international speaker and lectures actively.
Podcast Exam
Please
Log in
to take exam and earn CE credit.
More Podcast Episodes You Might Like