Episode 467:
Immediate Pocket Elimination Without Flaps While Scaling and Root Planing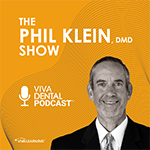 Dental podcast: Welcome to DentalTalk. I'm Dr. Phil Klein. Today we'll be discussing some significant issues that we face as GPs in treating periodontitis in our GP operatory. Our guest is Hillary Spencer, a full time clinical hygienist living in Kona Hawaii. Hillary was one of the first hygienists trained in the use of the BenTips Periodontal Treatment System and has become an expert in its use.
Podcast Exam
Please
Log in
to take exam and earn CE credit.
More Podcast Episodes You Might Like
Episode 467. Immediate Pocket Elimination Without Flaps While Scaling and Root Planing
4/17/2023 - CE Credits: 0.25 CEU
(
Take Exam
)
Episode 411. Current Clinical and Practice Management Issues in Periodontics
8/29/2022 - CE Credits: 0.25 CEU
(
Take Exam
)
View All Episodes from this Supporter »