Episode:
Prepping for the Digital Workflow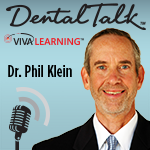 Supporter: DENTALEZ
CE Credits: 0.25 CEU
Dental podcast: Welcome to DentalTalk. I'm Dr. Phil Klein. The digital workflow has arrived and it's here to stay, In fact, it influences every aspect of our practices. Today we'll be discussing current operatory equipment and other technologies within the digital workflow that promote efficiency, comfort, and ergonomics. Our guest is Dr. Lori Trost, who maintains a full time practice in Redbud IL.
Podcast Exam
Please
Log in
to take exam and earn CE credit.
More Podcast Episodes You Might Like