Burs: A Critical Component of Successful Preps
Related Podcast from The Dr. Phil Klein Show:
Putting the Right Spin on Your Preps and Restorations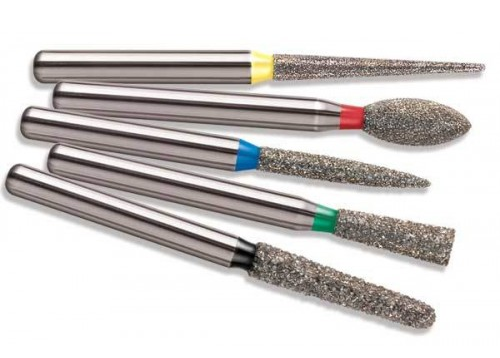 Although burs may seem like a humdrum topic, they are a vitally important part of your practice. Whether you're removing decay, reducing tooth structure, accessing the pulp or simply adjusting a pristine ceramic surface, your burs can have a significant impact on your clinical outcomes.
As Dr. Lori Trost, a recognized dental educator, author and clinical consultant who maintains a comprehensive restorative practice in the greater St. Louis, Missouri area, points out, "Burs are something we use every day. You really need to think about what's in your handpiece, which is your bur."
Your burs influence your handpiece's performance
One of the reasons why you need to think about what's in your handpiece has to do with the fact that both electric and air-driven handpieces now provide very high rotation. This high rotation is needed for some of the harder substances, such as the metals and ceramics. And with some of these surfaces and materials you are really pushing that bur.
"Often the bur overheats," Dr. Trost explains. "Often the bur loses its effectiveness, because either the diamonds or the carbine design has lost its cutting ability and the durability of the cutting process. And then once that starts to happen, the bur becomes literally lopsided. Because of the lopsidedness and how it circumferentially is spinning, it literally then starts to affect the turbine."
Features of today's dental burs
If you've been practicing for some time, you probably have memories of a bur breaking off in a patient's mouth. "There's nothing worse than looking around for a bur head," Dr. Trost declares. "It's a really scary moment!"
Good news: Bur design and manufacturing has improved. Today's high-quality burs are:
· Made with precision – "It's literally like a hot knife in butter on most of these cutting devices," says Dr. Trost.


· Made to ISO standards – So you get more predictable performance.


· Can also be used as a measuring tool – Because they meet international standards, you can use these highly-precise burs as measuring and depth gauges for your preps and reductions.
Dr. Trost shares that her go-to burs are from Microcopy. "They literally create the bur out of one component," she reports. "There's no weld. You don't have to worry about anything failing. So it makes a stronger cutting tool."
Why single-use burs are the best choice
There are two main reasons why Dr. Trost believes that all burs should be seen as single use: Infection control and cutting quality.
· Infection control – As the pandemic reminded us, infection control is paramount – and burs are notoriously difficult to clean and sterilize. In fact, because properly cleaning and sterilizing burs to reuse them is so problematic, since 2003 the CDC (Centers for Disease Control) has advised dentists to make burs single use.


· Cutting effectiveness – You put a lot of fatigue on your burs. By making your burs single use you ensure the best possible cutting ability every time, and eliminate worries about broken burs.
But, you may be thinking, isn't it expensive to use fresh burs each time? Not necessarily. "At the end of the day," Dr. Trost notes, "you have to look at what happens. Do you want to have your assistants literally trying to scrub burs individually? Okay, then you have to put them through an ultrasound, probably scrub again, and then they go into a sterilizer. Do the math. You are way money ahead if you do single use because you can prep quicker, faster, easier, better."
Dr. Trost even advertises the fact that she uses single-patient burs, because she has found that this is something that her patients find reassuring.
You don't need to keep dozens of different types of burs in stock
"I use four burs every time I do any kind of indirect restoration. Period," Dr. Trost shares. "It works every time. For operative, I go to three burs. Any composite, literally, I know I need a rounded design to prep. I need to have a finishing bur that will usually be fluted if I'm doing a Class 2. And I need to have either a round or a pear-shaped carbide bur."
By standardizing and simplifying things in this way, your assistants can easily have the setup ready for you to use, so that you can spend your time focusing on the patient and creating an excellent patient experience.
Which specific burs should you be using? Dr. Trost says that there's no "one size fits all" answer here, except for the fact that you should be using rounded type cutting instruments. Beyond that, she recommends that you start to track what you're using, paying attention to what works best in your hands. Use magnification to look at the cutting surface that remains after you've finished some preps, because each type of bur will produce a different result.
Take courses, read articles and ask trusted colleagues which burs they prefer. It's also a good idea to talk to your lab, because your lab wants to see a really defined margin.
Conclusion 
The bottom line, Dr. Trost points out, is that, "If you do proper selection of these rotary tools, your practice, your preps, everything elevates. You're going to have a better experience for the patient."