Episode:
Key Considerations in Choosing Digital Scanners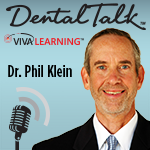 Dental podcast hosted by Dr. Phil Klein: This Viva Podcast will discuss the key considerations in choosing digital scanners. Our guest is Daniel Dwyer, Clinical Digital Specialist supporting True Definition. Dan has been involved in dentistry for over 21 years, and has concentrated on digital dentistry for the last 10 years.
Podcast Exam
Please
Log in
to take exam and earn CE credit.
More Podcast Episodes You Might Like