Episode 333:
OSHA and CDC Latest Guidance: How it Effects Your Practice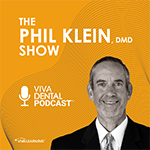 Dental podcast: Welcome to DentalTalk. I'm Dr. Phil Klein. Today we'll be discussing the latest guidelines from OSHA and the CDC for infection control compliance and how it effects your practice. Our guest is Dr. Karson Carpenter, a practicing dentist who serves as President of Compliance Training Partners. He is an OSHA approved trainer who has for over 25 years designed educational programs to bring dental and medical facilities into compliance with governmental regulations including OSHA, HIPAA and infection control.
Podcast Exam
Please
Log in
to take exam and earn CE credit.
More Podcast Episodes You Might Like