Episode 432:
How to Make Difficult Dental Procedures Easier, More Predictable, and Successful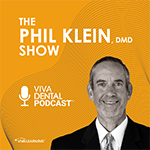 Dental podcast: Welcome to DentalTalk. I'm Dr. Phil Klein. Today we'll be discussing the tools and techniques that help make the most difficult procedures in dentistry easier, predictable, and more successful. Our guest is Dr. Ankur Gupta, who has a private practice in a suburb west of Cleveland. He lectures extensively for several dental society study clubs, annual sessions, post-doctorate residency programs, and several CE programs throughout the country.
Podcast Exam
Please
Log in
to take exam and earn CE credit.
More Podcast Episodes You Might Like