Simplifying Restorative Dentistry with Adaptive Shade Matching Technology
Related Podcast from The Dr. Phil Klein Show:
Restorative Dentistry Made Simpler with Adaptive Shade Matching Technology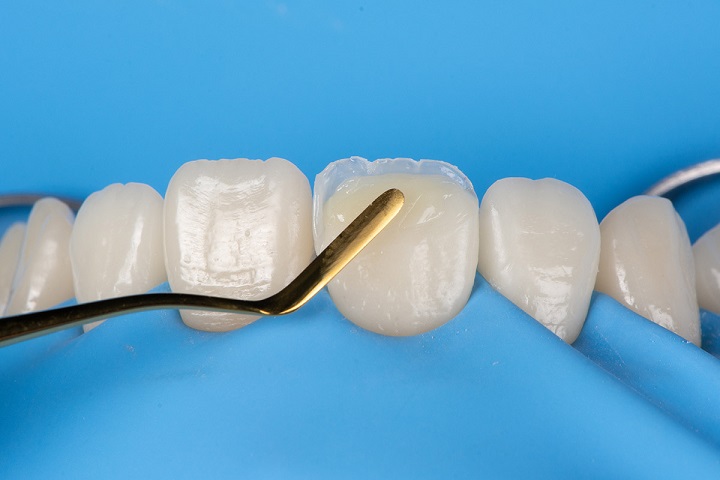 There are now universal composites that claim to have one omni-chromatic shade that works in virtually all situations – a "one size shoe fits everyone" type of product. To think that one shade will match all 16 VITA shades from A1 to D4 seems a bit crazy…and what we've seen in the field is that for the most part it is.
However, GC America's G-ænial™ A'CHORD universal composite provides something that actually does deliver on its promise: G-ænial™ A'CHORD has five core shades that match up with the 16 VITA shades as well as all of the shades in between.
As we've all seen, those in-between shades are as important as the primary shades. Dr. Robert Marus, a practicing cosmetic dentist who lectures on cosmetic dentistry and has written numerous articles on his smile makeover techniques, puts it this way, "People's teeth don't just settle right into the exact increment of a VITA shade. Even if you're using the VITA 3D guide, which is spectroscopy, it's not going to happen in reality. So here you have something that will get you those shades plus the in-between shades, which is a tremendous innovation."
How does this new uni-shade system work?
Each of the five of G-ænial™ A'CHORD shades matches with a group of shades on the VITA guide. For example, if you pick an A1, you can use it to match an A1, B1 or D2. The technology behind this composite gives you a little more translucence, so it pulls color from the neighboring tooth structure. "Years ago many composites had that feature," Dr. Marus admits, "but this has been refined and taken to the next level, where you're getting results that blend in perfectly. The result is really imperceptible restoration."
In terms of the learning curve, Dr. Marus found that it's a very smooth transition. That said, he does offer a word of caution. "Like with any composite system," he warns, "being mindful of your dentin shades is important. If you have a very dark underlying dentin shade, then you want to opaque that over with one of the opaque dentin or opaque shades that are in the kit."
How does this adaptive shade matching technology simplify restorative dentistry?
Having a composite that lets you use just five shades to match all 16 VITA shades offers the clinician practical, clinical advantages.
· Simplifies the process – Because each versatile shade of the composite matches to a group of VITA shades as well as the in-between shades, the shade-choosing process is both easier and more forgiving. You're not laboring over a shade.

· Saves time – That simpler shade-choosing process is, of course, faster. In addition, as Dr. Marus observes, "Sometimes with 'maverick' colors, you place your composite and you say, 'you know what? That's not right. I have to remove that and change it.' Well, that won't happen here" because of the color matching technology. This can be a big time-saver as well.

· Reduces inventory – You have less material in the office, which means there's less waste and less to expire.

· Handles well – G-ænial™ A'CHORD is a very user-friendly product, which also simplifies things. You get great sculpting in a non-sticky composite that polishes well and then keeps that polish over time.
In addition, the G-ænial™ A'CHORD material fluoresces like natural tooth structure and offers excellent strength and low wear.
What are some of the clinical applications for this?
Dr. Marus has been taking advantage of G-ænial™ A'CHORD's adaptive shade matching technology for a wide variety of clinical applications, including:
· Cord and diastema closures
· Class 1, 2 and 3 restorations
· Class 4 fractures
· Posterior Class 5 restorations
"It's used for both anterior and posterior," Dr. Marus explains, but the real value aesthetically is obviously in the anterior use."
Tips for choosing the right shade
Here is what Dr. Marus advises…

| | |
| --- | --- |
| Situation | Shade Choice & Comments |
| Small Class 4 | Use the shade of the tooth. For example, if it's a B1 then you can use the A1, which covers the B1, A1 and D2 VITA shades. |
| Small fracture on the incisal edge | Use the enamel shade only. That will be sufficient to pull color from the neighboring tooth structure. Plus, it has a little bit of that translucence that gives you the incisal gray at that part of the tooth. |
| Larger fracture | Back it up with the dentin shade or the opaque shade like you would with any composite restoration, and then lay the final shade right on top of that. |
| Class 2 on a posterior tooth | Use a flowable as a liner and then lay the G-ænial™ A'CHORD composite on top of that. |
| Anywhere with amalgam tattooing or where there is repair of very dark dentin | Mask this with the dentin shade, and then place the final shade on top of that. Because this composite will pull shade from the neighboring tooth structure, this approach ensures you will not be pulling in any darkness. |
Conclusion
Is this the sort of new technology that you need to switch over to right away? Of course not…but if you're looking for a way to reduce chairside time, lower your product inventory and bring more efficiency to your restorative dentistry, this adaptive shade matching technology will enable you to accomplish these goals.