Episode 495:
To Probe or Not to Probe? Implant Maintenance Demystified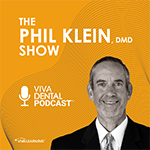 Even though millions of patients have successfully been treated with dental implants some of us are still not sure if it's okay to probe an implant and what the proper protocol is for implant maintenance. To help us answer some of these questions is our guest Jessica Woods. Jessica is a RDH with a masters in public health. She has spent the last decade as a clinician, speaker, author, mentor, and public health advocate. She is also a past President of the Nevada Dental Hygienists' Association (NDHA), recognized as an Oral Health Champion, and the recipient of the Nevada Dental Hygienist of the Year Award for advocacy efforts in expanding opportunities for dental hygienists.
Podcast Exam
Please
Log in
to take exam and earn CE credit.
More Podcast Episodes You Might Like