Episode 256:
The Rise of 'Same-day Veneers' in Dentistry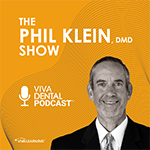 Supporter: COLTENE
CE Credits: 0.25 CEU
Dental podcast hosted by Dr. Phil Klein: Our guest is Dr. Lundon Albrecht, a key opinion leader and consultant for Coltene (a global dental manufacturer). He has lectured internationally to dentists on the subject of composite veneers and a broad array of topics related to cosmetic and restorative dentistry. Dr. Albrecht has an innovative mind and is constantly seeking ways to improve dentistry for the patient and the dentist.
Podcast Exam
Please
Log in
to take exam and earn CE credit.
More Podcast Episodes You Might Like