Episode 272:
In-office and Take-home Professional Whitening: It's a Winning Combination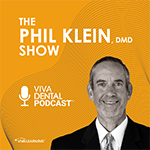 Dental podcast: Welcome to DentalTalk. I'm Dr. Phil Klein. Today we'll be discussing the effectiveness of a combined approach to both In-office and Take-home whitening treatment. Our guest is Dr. Gary Radz, an accomplished KOL who has become one of the most respected educators in the areas of dental materials and technology specifically relating to esthetic dentistry. His practice, Cosmetic Dentistry of Colorado, is located in downtown Denver, and focuses on cosmetic dentistry.
Podcast Exam
Please
Log in
to take exam and earn CE credit.
More Podcast Episodes You Might Like