Episode 346:
Nutrition Plays an Essential Role in Your Patients' Health and Your Clinical Outcomes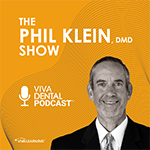 Dental podcast: Welcome to DentalTalk. I'm Dr. Phil Klein. There is no innocent food. Researchers have found irrefutable scientific evidence that macronutrients & micronutrients modulate inflammation in the body. What your patients consume either boosts inflammation or turns it down. Consuming a variety of healthy food lowers inflammation, slows age related dysfunction, supports a healthy metabolism & boosts oral health. Today we'll be discussing all this and more. Our guest is Dr. Uche Odiatu, author of The Miracle of Health, a professional member of the American College of Sports Medicine and a practicing dentist in Toronto. He has given 500 plus lectures in various countries and has lectured at the ADA Annual session 14 times since 2006.
Podcast Exam
Please
Log in
to take exam and earn CE credit.
More Podcast Episodes You Might Like