Episode 351:
Bioactivity: The Answer to the Weak Link of Adhesive Dentistry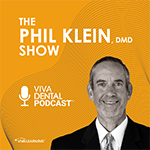 Dental podcast: Welcome to DentalTalk. I'm Dr. Phil Klein. Today we'll be discussing bioactivity and how it addresses the weak link in adhesive dentistry, specifically the problem of hydrolysis of double bonds in adhesives. Our guest is Dr. Delfín Barquero, a cosmetic dentist in San José, Costa Rica. He teaches and lectures internationally on a variety of topics. The Barquero name has a long history of Dentistry in Costa Rica, in fact, for more than a hundred years the profession of Dentistry has been passed down through the family.
Podcast Exam
Please
Log in
to take exam and earn CE credit.
More Podcast Episodes You Might Like