Episode 86:
Talking to Patients about Bioactive and Biomimetic Dentistry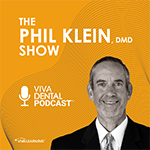 Supporter: Pulpdent
CE Credits: 0.25 CEU
Dental podcast hosted by Dr. Phil Klein: This Viva Podcast will discuss the advantages of bioactivity and biomimicry for patients and dental practices, and how to educate patients about treatments involving bioactive and biomimetic materials. Our guest is Larry Clark, Director of Clinical Affairs and Marketing at Pulpdent. Larry has authored publications and lectured extensively on dental materials and was the first non-dentist, non-dental lab member inducted into the American Society for Dental Aesthetics.
Podcast Exam
Please
Log in
to take exam and earn CE credit.
More Podcast Episodes You Might Like