Episode 490:
Warm it and Fill it! You'll Never Look Back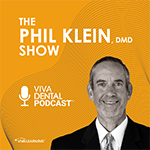 Supporter: AdDent
CE Credits: 0.25 CEU
Lots of compelling research is supporting the concept of doing things a little differently when it comes to placing our composite restorative materials. And yes, you've guessed it, this has to do with the temperature of the material when applying it to the tooth preparation. Our guest, Dr. John Comisi, will tell us more about this and why we should consider warming things up in our direct restorative procedures. Dr. Comisi practiced general dentistry and dental sleep medicine in Ithaca, NY for 35 years before relocating to South Carolina in August 2017 to join the faculty at the Medical University of South Carolina James B. Edwards College of Dental Medicine where he is an Associate Professor of Restorative Dentistry.
Podcast Exam
Please
Log in
to take exam and earn CE credit.
More Podcast Episodes You Might Like
Episode 490. Warm it and Fill it! You'll Never Look Back
7/31/2023 - CE Credits: 0.25 CEU
(
Take Exam
)
Episode 449. Enhanced Properties and Placement Simplification of Warmed Composite Resin
1/30/2023 - CE Credits: 0 CEU
Episode 428. The Benefits of Using Warmed Composite When Placing Direct Bonded Dental Restorations
11/18/2022 - CE Credits: 0.25 CEU
(
Take Exam
)
View All Episodes from this Supporter »