Episode 293:
Sterilization Protocols Post Covid-19: Biological & Chemical Indicators, High Thermal Washers, and PPE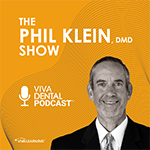 Dental podcast: Welcome to DentalTalk. I'm Dr. Phil Klein. Today we'll be discussing best practices in the area of instrument sterilization protocol. We'll be specifically addressing biological Indicators, High Thermal Washers, and PPE. Our guest is Dr. Ron Kaminer, a graduate from SUNY at Buffalo School of Dental Medicine. He maintains two practices, one in Hewlett, NY and one in Oceanside, NY. Dr Kaminer is an international expert in the field of Dental lasers and has lectured on Lasers and minimally invasive Dentistry nationally and internationally. He is also one of Viva Learning's most popular speakers presenting over 35 Viva Learning webinars.
Podcast Exam
Please
Log in
to take exam and earn CE credit.
More Podcast Episodes You Might Like
Episode 498. Transform Your Practice with Autoclave WiFi Connectivity
9/11/2023 - CE Credits: 0.25 CEU
(
Take Exam
)
Episode 293. Sterilization Protocols Post Covid-19: Biological & Chemical Indicators, High Thermal Washers, and PPE
5/6/2021 - CE Credits: 0.25 CEU
(
Take Exam
)
View All Episodes from this Supporter »