Episode 330:
The Key to Strong, Durable, Direct Adhesive Composites: A Prerequisite for Full Mouth Reconstruction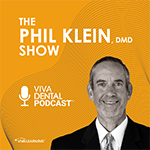 Dental podcast: Welcome to DentalTalk. I'm Dr. Phil Klein. Understanding the steps to create durable, long-lasting, composites, is a prerequisite for doing successful reconstruction cases. Today we'll be talking about advanced adhesion techniques such as Immediate Dentin Sealing, Resin Coating and Stress-Reduced Layering. Getting a handle on all this enables us to create strong durable bonds that protect the pulp and give us peace of mind with our recontruction cases. Our guest is Dr. Jeffrey Hoos, a world-renowned practitioner and author who has developed a broad array of innovative dental techniques including the patented H & H cordless impression method.
Podcast Exam
Please
Log in
to take exam and earn CE credit.
More Podcast Episodes You Might Like