Episode:
Use of Single Visit Crown material in the Treatment of Sleep Apnea/TMJ Dysfunction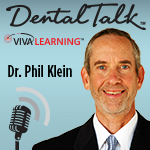 Dental podcast hosted by Dr. Phil Klein: This Viva Podcast will discuss the use of single visit semipermanent crown material in the treatment of Sleep Apnea and TMJ Dysfunction. Our guest is Dr. Tony Soileau, a general dentist from Lafayette, Louisiana, focusing on restorative rehabilitation and cosmetic enhancements. He lectures nationally and internationally on digital photography and computer assistance for diagnosing, treatment planning, and performing comprehensive dental procedures. We are proud to have him on our program as he is one of the most sought after lecturers in dentistry today.
Podcast Exam
Please
Log in
to take exam and earn CE credit.
More Podcast Episodes You Might Like