Episode 135:
The Transition from Film to Hard Sensor to PSP Technology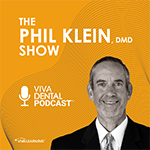 Dental podcast hosted by Dr. Phil Klein: This Viva Podcast will discuss the use and experience with Phosphor Plate Digital Imaging commonly referred to as PSP Technology. Our guest is Dr. Juan Yepes, a dentist and a physician with an extensive educational and teaching background nationally and internationally. Dr. Yepes is a professor in the Department of Pediatric Dentistry at Indiana University School of Dentistry in Indianapolis, Indiana. His research and teaching interests are in the area of oral medicine, oral radiology and oral pathology in children.
Podcast Exam
Please
Log in
to take exam and earn CE credit.
More Podcast Episodes You Might Like