Episode:
Saying Yes: How Does Digital Technology Increase Case Acceptance?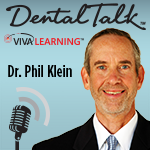 Dental podcast hosted by Dr. Phil Klein: Thanks for joining us for this Viva Podcast. Making the decision to incorporate new technology involves an evaluation of what results it will deliver to both your patients and practice. Today we'll delve into how PSP and other digital technologies have accomplished just that, an increase in productivity through patients case acceptance. Our guest is Dr. Josh Wren, a board certified pediatric dentist who enjoys educating other dental professionals in all topics of pediatric dentistry.
Podcast Exam
Please
Log in
to take exam and earn CE credit.
More Podcast Episodes You Might Like