Episode 234:
Biofilm-Focused Care Protocols for Teeth, Implants and Restorations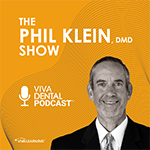 Supporter: Ivoclar
CE Credits: 0.25 CEU
Dental podcast hosted by Dr. Phil Klein: As dental professionals, we all want to protect our patients' health, dentition, and restorations. So in order to do this effectively, we need to address biofilm and non-biofilm induced inflammation. Today we'll be discussing the latest hygiene protocols, technology, and products to meet this challenge and help us take our practices into a realm of biofilm-focused care. Our guest is Susan Wingrove, a dynamic innovator, writer, researcher, instrument designer, and RDH Award of Distinction Recipient. She is also a widely published author and international speaker.
Podcast Exam
Please
Log in
to take exam and earn CE credit.
More Podcast Episodes You Might Like