Episode 380:
Innovation in Dentistry: Why it Matters to Your Practice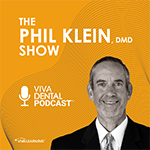 Supporter: Ivoclar
CE Credits: 0.25 CEU
Dental podcast: Welcome to DentalTalk. I'm Dr. Phil Klein. Today we will discuss the importance of research and its role in dentists deciding to use scientifically and clinically proven materials that help them practice better dentistry. Our guest is Dr. Sabiha Bunek, who is the CEO of DENTAL ADVISOR and maintains a private practice in Ann Arbor, Michigan. Her unique and multi-faceted career as a clinician and researcher provides a valuable vantage point to bridge the gap between science and real-world clinical applications.
Podcast Exam
Please
Log in
to take exam and earn CE credit.
More Podcast Episodes You Might Like