Episode 470:
Tooth Bleaching FAQs: Practical Answers to the Most Common Questions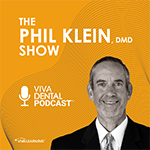 Supporter: SDI
CE Credits: 0.25 CEU
Dental podcast: Welcome to DentalTalk. I'm Dr. Phil Klein. Vital tooth whitening has been a component of many dental offices for decades, and yet many clinicians are uncertain how to answer many of FAQs their patients pose. Today we'll be discussing topics such as safety, tooth sensitivity, and how long should you bleach. Our guest is Dr. Miles Cone, a Key Opinion Leader, international speaker, author, and co-owner of Nuance Dental Specialists in Portland, Maine. In addition to achieving board certification and diplomate status within his Prosthodontic specialty, Dr. Cone has earned his designation as a Certified Dental Technician.
Podcast Exam
Please
Log in
to take exam and earn CE credit.
More Podcast Episodes You Might Like