Episode 303:
Bleaching Bonanza: The Methods, Materials, and Marketing of Tooth Whitening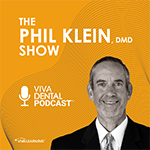 Supporter: SDI
CE Credits: 0.25 CEU
Dental podcast: Welcome to DentalTalk, I'm Dr. Phil Klein. Today we'll be talking about Bleaching Teeth; and as the title states, we'll be addressing methods, materials and marketing of tooth whitening procedures. With us today is an expert in the field, Dr. Miles Cone. Dr Cone is a graduate of Tufts University School of Dental Medicine, and completed a three-year Prosthodontic residency program while serving in the United States Army before being honorably discharged as a field grade officer in the rank of Major. Miles is one of only two prosthodontists in the entirety of New England to have obtained additional qualifications as a Certified Dental Technician.
Podcast Exam
Please
Log in
to take exam and earn CE credit.
More Podcast Episodes You Might Like