Cranberry Podcast Series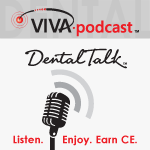 Series: Cranberry Welcome to the Cranberry series of dental podcasts. Top KOLs, through dental podcasts, will address clinical techniques, new products and the latest research and development at Cranberry.
---
Episodes from this Series: (1)
Returning to the Dental Office During COVID-19 Pandemic
CE Credits: 0.25 CEU
Release Date: 5/5/2020
Dental podcast hosted by Dr. Phil Klein: Rightfully so, many of us are very concerned about returning to the dental office during this COVID-19 pandemic. Today we'll be discussing how important it is to take precautions and pre-plan in order to protect staff and patients. Our guest, Shannon Pace Brinker, is a national and international speaker and published author of over 300 articles. She has been a practicing dental assistant for over 25 years. In addition, over the past 6 years, she has taught over 2,000 classes on dental assisting technique with over 60,000 dental assistants as her students.