Ergonomics: Ignore It At Your Peril
Related Podcast from The Dr. Phil Klein Show:
Align for Success: How Ergonomics Will Help Your Practice and Your Life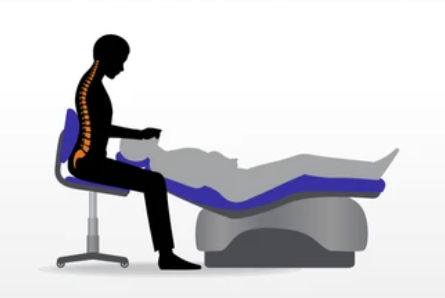 You spend all day, every day operating in a field of vision that's smaller than a tennis ball—and that field is often in a less-than-perfect position. So to make up for this you lean a little too far this way, hunch a little too much that way or fall back into "peeking and perching" to try to get to a place where you can use direct vision. Meanwhile you're working with instruments that might be too heavy, completely unbalanced or a poor fit for your hand.
It's no wonder you ache by the end of the day! If you don't want to join the ranks of clinicians who cut their practice years short because they're in too much pain to continue, you must pay attention to ergonomics!
Most of us learned about ergonomics in school. Then, over time, we developed bad habits that, as dental clinician, author, educator and consultant Dr. Sheri Doniger puts it, can cause us "to be all hunched over by the end of our practice career."
Excellent ergonomics starts with your posture
What's the best posture for clinicians? "It's probably not how anybody is sitting right now!" Dr. Doniger exclaims. "When you're sitting, standing and walking, your ear really should be above your clavicle. If your head is further forward then your chin is further forward, and you're really straining your upper back." This can lead to disc injuries and other problems.
Dr. Doniger's recommendations:
· Try to keep your back as straight as possible.
· When you're sitting in the dental chair, your hips should be higher than your knees and your feet should be flat on the floor.
· Make more use of indirect vision instead of relying on direct vision.
· If this is what is necessary for you to maintain your posture and steady field of vision, ask the patient to move towards you.
The time to fix your posture is now
If you wait until you're in pain or experiencing other symptoms, changing your ergonomic habits might make your symptoms go away. But why put yourself through that? The best time to fix things is before you start having problems!
As with any behavioral change, learning to maintain excellent posture takes practice. If you're really aware of it in the beginning then if you start to contort yourself, you'll notice. "Oh wait," you'll think, "I'm not supposed to be doing that!"
"Muscle memory is the best thing," Dr. Doniger points out. She recommends that you take some breaks between patients to stand against the wall and remind yourself what it feels like for your spine to be straight. This will make it easier to transition into a better posture. Stretching while in your chair can also be helpful.
Equipment is the other piece of the ergonomics puzzle
Even if your posture is perfect, if you're using equipment that is not right for you, you are still setting yourself up for problems.
What should you be looking for in dental equipment in order to support good ergonomics? "My biggest suggestion about dental equipment," Dr. Doniger shares, "is that you really need to go try things. You need to feel them in your hands. You need to see how something feels. It's kind of like Goldilocks going and checking out all the chairs in the house to see what fits and what's the most comfortable."
Beyond that, other recommendations include:
· Pay attention to illumination and magnification. Both can help you to be able to see at the proper angle and proper distance from the oral cavity, so that you can sit in a straighter posture.

· Get instruments that fit well in your hands. Think about how it feels. Is it too heavy? Is it back heavy? Is it too wide? Is it not wide enough? Do you find yourself using a "death grip" to hold onto it?

· Consider getting a cordless handpiece. Look for one with good illumination that is very "hand-friendly": lightweight, balanced, stable in your hand.
How can you get the opportunity to try equipment before you buy it?
With dental meetings coming back, Dr. Doniger recommends that "if you are in need of any of these products, get to one of the local dental meetings" such as a regional, state or even national meeting.
Another option is to speak with your dental rep. Quite often the dental reps will come out to your office and let you sample their products—sometimes even for a few weeks.
Remember, the important thing is to get ahead of ergonomic problems before they begin. Otherwise, once you purchase a handpiece that is not a good fit for you, you'll quickly be reminded that fixing things once your body starts to break down is always more difficult than avoiding that breakdown in the first place!