Episode:
Align for Success: How Ergonomics Will Help Your Practice and Your Life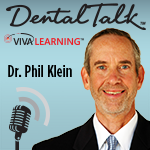 Supporter: DENTALEZ
CE Credits: 0.25 CEU
Dental podcast: Welcome to DentalTalk. I'm Dr. Phil Klein. Learning how to sit and stand should be natural. But when you're operating in a field of vision that is smaller than a tennis ball, and that field is often not in a perfect position, we need to look at instruments, equipment, and body mechanics that will help us maintain our body's health for practice longevity. To tell us more about this, is our guest Dr Sheri Doniger. She is a respected dental clinician, author, educator, and consultant who currently practices dentistry in Lincolnwood, IL.


Podcast Exam
Please
Log in
to take exam and earn CE credit.
More Podcast Episodes You Might Like