Episode 457:
Zirconia vs. Emax - When, Where, How?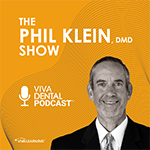 Supporter: Bisco
CE Credits: 0.25 CEU
Dental podcast: Welcome to DentalTalk. I'm Dr. Phil Klein. Today we'll be talking with Dr. Alex Vasserman on the subject of Zirconia versus Emax. We'll address his philosophy on material choice and his thought process on prep design, red flags as it relates to materials, and his cementation protocols. Dr. Vasserman has been practicing dentistry on the Upper East Side of Manhattan for about 10 years now. He is passionate about full-mouth reconstruction with a focus on cosmetics, longevity, and predictability.
Podcast Exam
Please
Log in
to take exam and earn CE credit.
More Podcast Episodes You Might Like