Episode 455:
Simplifying Concepts for Veneer Cementation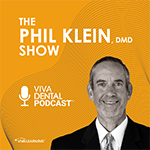 Supporter: Bisco
CE Credits: 0.25 CEU
Dental podcast: Welcome to DentalTalk. I'm Dr. Phil Klein. Today we'll be discussing simple concepts for veneer cementation and how to manage the cementation process. Our guest is Dr. Todd Snyder, a popular speaker on Viva Learning.com, a cosmetic dentist, international author, lecturer and consultant to dental companies. He hosts a weekly podcast, Delusional: Winning the Weekly War of Dentistry. You can reach Dr. Snyder at: www.Legion.Dentist.
Podcast Exam
Please
Log in
to take exam and earn CE credit.
More Podcast Episodes You Might Like