Episode 493:
Obstructive Sleep Apnea Could be a Dental Nightmare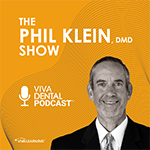 Supporter: Bisco
CE Credits: 0.5 CEU
OSA is more common than you think. And as dentists, it's so important to identify this insidious condition as early as possible. Not only can it wreak havoc on your patient's teeth and gums, it can also cause serious systemic health issues for the adult, child and even newborn. Today we'll discuss integrative oral medicine and how it relates to conditions like OSA. We'll also discuss the importance of using biologically kind restorative materials that promote systemic health and predictable long-term clinical success. Our guest is Dr. Mark Cannon, a Professor of Otolaryngology, Division of Dentistry at Northwestern University, Feinberg School of Medicine, and a member of the International Association of Pediatric Dentistry. In addition to maintaining a large private practice in the suburbs of Chicago, he is the Research Coordinator of the residency program at Ann and Robert Lurie Children's Hospital, Chicago, Illinois. Dr. Cannon is on the Executive Board, current President (2023) and a Master Fellow of the American Academy for Oral and Systemic Health.
Podcast Exam
Please
Log in
to take exam and earn CE credit.
More Podcast Episodes You Might Like