Episode 372:
Management of Zirconia Restorations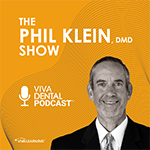 Supporter: Bisco
CE Credits: 0.25 CEU
Dental podcast: Welcome to DentalTalk. I'm Dr. Phil Klein. As we all know, zirconia is becoming one of the most popular materials in indirect restorative dentistry. Today we'll be discussing some of the important considerations and nuances in the management of Zirconia restorations. Our guest is Dr. Todd Snyder, a popular speaker on Viva Learning.com, a cosmetic dentist, author, international lecturer, researcher and instructor at various teaching facilities. Dr. Snyder is a consultant for numerous dental manufacturing companies and has had the opportunity to research and recommend changes for many of the materials now being used in dentistry. You can reach Dr. Snyder at:
www.legion.dentist.
Podcast Exam
Please
Log in
to take exam and earn CE credit.
More Podcast Episodes You Might Like