Episode 60:
Internet Connectivity and Your Steri-Center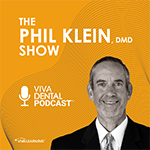 Supporter: SciCan
CE Credits: 0.25 CEU
Dental podcast hosted by Dr. Phil Klein: This Viva Podcast will discuss a variety of ways that dental offices can have internet connectivity work for them in the steri-center. Our guest today is Mike Etheridge, the US Marketing Manager for SciCan. Mike has spent 25 years in the dental industry in sales and marketing positions for companies like Kerr Corporation, Henry Schein Dental, Aegis Communications and the last 7 years with SciCan.
Podcast Exam
Please
Log in
to take exam and earn CE credit.
More Podcast Episodes You Might Like