Episode:
Challenges & Solutions for Xerostomia Patients: From a Hygienist with Sjogren's Syndrome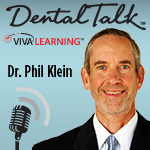 Dental podcast: Welcome to DentalTalk. I'm Dr. Phil Klein. Today we'll be discussing the varying degrees of xerostomia and their effects on a person's oral health. We will discuss the range of solutions available for this condition which are designed to increase patient comfort and ultimately improve quality of life. Our guest is Brooke Crouch, a dental hygienist with over a decade of clinical experience. Brooke is a key opinion leader, author, national speaker, and above all, patient advocate. Brooke is passionate about educating dental professionals on the effects of xerostomia and speaks from both a provider and patient perspective.
Podcast Exam
Please
Log in
to take exam and earn CE credit.
More Podcast Episodes You Might Like
The Storm Is Coming Because Of Your Water: Waterline Safety, Current Lawsuits & New Technology
10/25/2021 - CE Credits: 0.25 CEU
(
Take Exam
)
How to Successfully Combine Extraction and Immediate Implant Placement
10/20/2021 - CE Credits: 0.25 CEU
(
Take Exam
)
Challenges & Solutions for Xerostomia Patients: From a Hygienist with Sjogren's Syndrome
7/12/2021 - CE Credits: 0.25 CEU
(
Take Exam
)
View All Episodes from this Supporter »