Episode:
The Storm Is Coming Because Of Your Water: Waterline Safety, Current Lawsuits & New Technology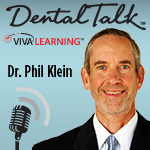 Dental podcast: Welcome to DentalTalk. I'm Dr. Phil Klein. Today we'll be discussing dental waterline safety. Dental unit waterlines are the ideal place for dangerous biofilm growth. If this growth goes untreated it will make patients sick and leave your office liable. So the question is: Is your office vulnerable to this risk?
Podcast Exam
Please
Log in
to take exam and earn CE credit.
More Podcast Episodes You Might Like
The Storm Is Coming Because Of Your Water: Waterline Safety, Current Lawsuits & New Technology
10/25/2021 - CE Credits: 0.25 CEU
(
Take Exam
)
How to Successfully Combine Extraction and Immediate Implant Placement
10/20/2021 - CE Credits: 0.25 CEU
(
Take Exam
)
Challenges & Solutions for Xerostomia Patients: From a Hygienist with Sjogren's Syndrome
7/12/2021 - CE Credits: 0.25 CEU
(
Take Exam
)
View All Episodes from this Supporter »