Episode:
How to Successfully Combine Extraction and Immediate Implant Placement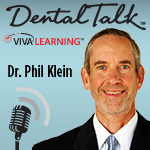 Dental podcast: Welcome to DentalTalk. I'm Dr. Phil Klein. Compression of treatment time in oral implantology is a concept that is gaining popularity. Management of the dento-gingival complex, and development of adequate biologic width, are critical components in achieving ideal functional and aesthetic outcomes. Today we'll be discussing surgical and prosthetic strategies to enhance clinical outcomes in extraction/immediate implant placement, including the use of a final definitive titanium abutment. Our guest is Dr. Robert J. Miller, a Board Certified Diplomate of the American Board of Oral Implantology.
Podcast Exam
Please
Log in
to take exam and earn CE credit.
More Podcast Episodes You Might Like
The Storm Is Coming Because Of Your Water: Waterline Safety, Current Lawsuits & New Technology
10/25/2021 - CE Credits: 0.25 CEU
(
Take Exam
)
How to Successfully Combine Extraction and Immediate Implant Placement
10/20/2021 - CE Credits: 0.25 CEU
(
Take Exam
)
Challenges & Solutions for Xerostomia Patients: From a Hygienist with Sjogren's Syndrome
7/12/2021 - CE Credits: 0.25 CEU
(
Take Exam
)
View All Episodes from this Supporter »