Episode:
Vital Pulp Therapy: Why It Matters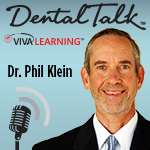 Dental podcast: Welcome to DentalTalk. I'm Dr. Phil Klein. Vital pulp therapy has become a hot topic in dentistry: Current treatments have the potential to conserve natural tooth structure, minimize patient discomfort, and improve dentists' confidence when placing deep restorations. Today we'll be discussing pulp capping and options for materials, including bioceramics. Our guest is Dr. Lauren Kuhn, an endodontist and part-time university professor at the University of Minnesota School of Dentistry. She is a key opinion leader in the field of endodontics, has written articles in various publications and presented CE lectures that have been viewed by thousands of dentists nationwide.
Podcast Exam
Please
Log in
to take exam and earn CE credit.
More Podcast Episodes You Might Like