Episode:
What's Up with Bioactive Dental Materials?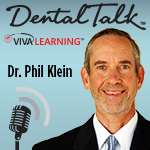 Dental podcast hosted by Dr. Phil Klein: The category of bioactive dental materials has continued to evolve in dentistry and with that has come confusion and controversy. This Viva Podcast will address basic questions and provide some clarity concerning this interesting class of restorative materials. Our guest, Dr. Troy Schmedding, maintains a private practice in Walnut Creek, CA and lectures both nationally and internationally on aesthetics and restorative materials. Dr Schmedding also serves as a Key Opinion Leader for numerous manufacturers helping develop and bring new products to market.
Podcast Exam
Please
Log in
to take exam and earn CE credit.
More Podcast Episodes You Might Like