Episode:
The Psychology Behind Major Financial Decisions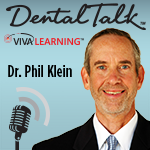 Supporter: Sunbit
CE Credits: 0.25 CEU
Dental podcast: Welcome to DentalTalk. I'm Dr. Phil Klein. Today we'll be discussing the psychological concepts behind major financial decisions in your practice. Our guest is Dr. Ankur Gupta, who has a private practice in a suburb west of Cleveland. He lectures extensively for several dental society study clubs, annual sessions, post-doctorate residency programs, and several CE programs throughout the country.
Podcast Exam
Please
Log in
to take exam and earn CE credit.
More Podcast Episodes You Might Like
Solving the Patient Payment Dilemma: How to Turn a No into a Yes!
9/12/2022 - CE Credits: 0.25 CEU
(
Take Exam
)
I Can Afford It - Secrets of Financial Arrangements that Get a "Yes!"
8/1/2022 - CE Credits: 0.25 CEU
(
Take Exam
)
The Psychology Behind Major Financial Decisions
6/1/2022 - CE Credits: 0.25 CEU
(
Take Exam
)
View All Episodes from this Supporter »