Episode 405:
I Can Afford It - Secrets of Financial Arrangements that Get a "Yes!"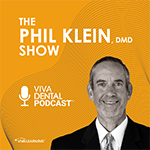 Supporter: Sunbit
CE Credits: 0.25 CEU
Dental podcast: Welcome to DentalTalk. I'm Dr. Phil Klein. Today we'll be discussing financial arrangements and treatment presentation skills to increase your case acceptance success. Our guest is Steven J. Anderson, who coaches some of the highest performing teams in dentistry with proven systems that create a "Yes" to comprehensive care. He is Founder of the Total Patient Service Institute, Crown Council, and Smiles for Life Foundation and the author of numerous books and learning programs.
Podcast Exam
Please
Log in
to take exam and earn CE credit.
More Podcast Episodes You Might Like