Episode 422:
Smile Transformation Using Injection Bonding: A Great Option for Your Patients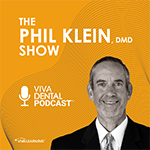 Dental podcast: Welcome to DentalTalk. I'm Dr. Phil Klein. These days, it seems like, more and more, dental patients continue to seek alternative treatment to traditional dental services. Once such example is injection Bonding which is fast becoming a popular treatment alternative. To tell us more about it is our guest Dr. William Vuillemot, founder and CEO of SmileBOND Systems, LLC. He is known as the "Father/Inventor of Injection Bonding".
Podcast Exam
Please
Log in
to take exam and earn CE credit.
More Podcast Episodes You Might Like