Episode 352:
The Extraordinary New Patient Experience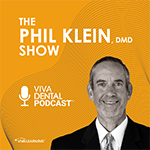 Dental podcast: Welcome to DentalTalk. I'm Dr. Phil Klein. So today's question is, "What makes your office different?" If your answer is "friendly, caring, excellent clinical skills, " well, that's all great, but pretty much every dental office is saying the same thing. So let's switch gears a bit and ask, What are specific services that you can offer that will make your practice different?" In this podcast we're going to answer that question by learning about services that any office can employ, which will truly make you unique and stand out... and at the same time leave your patients completely amazed.
Podcast Exam
Please
Log in
to take exam and earn CE credit.
More Podcast Episodes You Might Like