Episode 261:
Bioactive Materials: Their Role in Predictable Clinical Success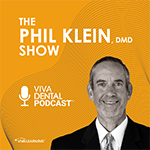 Dental podcast: Welcome to DentalTalk. This is Dr. Phil Klein. Bioactive has become a buzz word in dentistry, but many dentists struggle to understand what it means. Today we'll be discussing why you should care about bioactivity and the restorative materials that can be used in your office every day. Our guest is Dr. Fay Goldstep, a featured speaker in the ADA Seminar Series as well as a long time national and international speaker. She serves on the teaching faculties of various universities and sits on the board of several publications. Dr. Goldstep has been a contributing author to 3 textbooks and has written more than 20 articles in a variety of dental publications. She maintains a private practice in Toronto, Canada.
Podcast Exam
Please
Log in
to take exam and earn CE credit.
More Podcast Episodes You Might Like